Vanessa Hayes, RDH, BS, MHR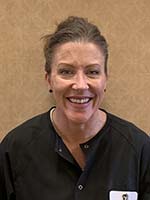 Vanessa graduated with top honors from SUNY Erie School of Dental Hygiene and was awarded the New York State Dental Association Albert H. Stevenson Award. She was also elected as a member into the Sigma Phi Alpha Dental Hygiene Honor Society. Prior to becoming a dental hygienist, Vanessa served nine years on active duty as an officer in the United States Air Force and served both stateside and overseas in California, Texas, South Korea, Germany, as well as three deployments to the Middle East. After a rewarding career in the military, Vanessa became a Certified Professional Organizer and for six years, she helped hundreds of people simplify and organize their lives.
Vanessa is a member of the American Dental Hygienists' Association and the Veterans of Foreign Wars Post 205. When not at work, Vanessa enjoys camping, hiking, working out, traveling, baking and relaxing on her front porch (when it's not too cold) here in East Aurora with her wonderful husband, daughter and two rescue dogs.